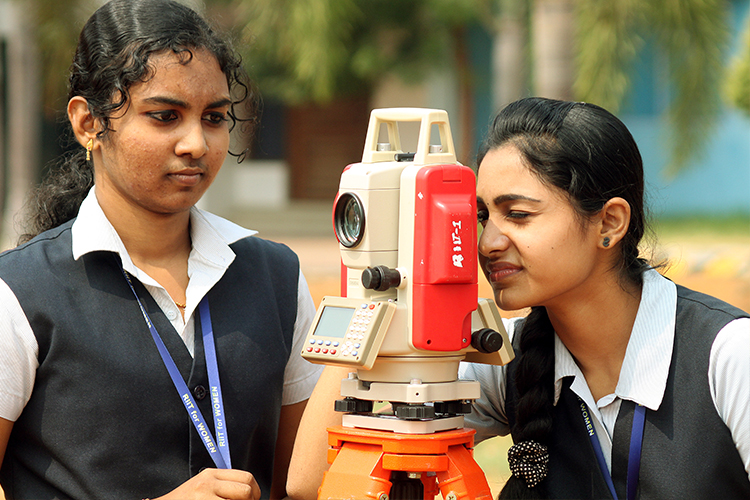 B.E Civil Engineering
Vision :
A collaborative hub where leading civil engineering serves the needs of a broad array of disciplines and where innovations in other fields are applied to enrich civil engineering research and practice
Mission :
Educating our students is our core mission, and students are our inspiration. They come to RIT ready to learn, ready to conduct research and ready to solve the world's biggest problems. Our students are not only dedicated to their academics, they are involved members of the RIT community. RIT students are researchers, athletes, and more. RIT inspires the leaders of tomorrow to take on the challenge of creating and sustaining the built environment that underpins our society. It enable the students with fundamental engineering knowledge, a broad set of skills, and an inquisitive attitude.
Academic Environment:
We want our students to work together whenever possible, and not just with each other. At RIT, our students work closely with all members of our department – faculty and staff. Learning does not stop once you leave the classroom or laboratory. Through interdisciplinary research and social gatherings, the education process is constant. Our students discover, the design, develop and implement new technologies and systems that make an impact. We are finding solutions based on scientific research, and implementing them to make real-world contributions.
World Class Educators
At RIT, we educate inside and outside the classroom. Our department is backed up by a team of well qualified and experienced faculty members They are specialized in structural, geotechnical, environmental, water resources, transportation, surveying, and construction engineering, as well as management, remote sensing and GIS. The faculty members contribute to academic development by publishing books and presenting papers in international and national conferences. Our students spend valuable time learning from faculty in lectures, but put their knowledge to real-world use in our laboratories. The labs are well equipped with state of the art equipment. The faculties are actively involved in outreach activities by delivering Technical Talks and chairing many conferences around the state. They also encourage the students to do so. .Our faculty dedicate their careers to education and mentoring, to further creating the next generation of civil engineering professionals
Achievements of our Students
Our department is regularly organizing seminars, guest lectures for the benefit of student community. Prominent experts from the academia and the Industry have given guest lectures to our students. Students are taken to industrial visits regularly. Recently they visited the filter house near Krishnancoil in Nagercoil and several dams and bridges around Kanyakumari District. In order to gain practical knowledge, short term courses like autocad , staad-pro and revit are provided for the improvement of their technical skills. The department encourages our students and faculty members to participate in National and International Workshops and Conferences to update their skills in the latest areas through the full sponsorship of our management.
The department supports several Institute symposium's, workshops and cultural competitions that engage and connect with Civil engineering students. Our students have participated in seminars conducted by IBCC INDIA, in association with IIT Madras regarding bridge design and also participated in many Zonal Level Competitions.
Our students have actively participated in various National and international, conferences and have published more than 30 papers. To sensitize our students to the latest developments, every year a National Level Technical Symposium is conducted. The students from other colleges are also invited to take part in paper presentation and technical quiz competition. Prizes are awarded to the best performers. Our students have excelled in academics by securing university rank in the Anna university examination.
Our department have well trained and enthusiastic sports persons, who had participated in sports meet conducted by Anna University and have won medals, shield and championship.
Lab Facilities
Our lab setup is very strong and all of them are fully equipped with latest equipment in sufficient numbers. The various reputed companies who have visited our different labs during campus placement were highly pleased and has appreciated us.
The department provides state of art computing facilities to the students through well equipped labs. The lab have clusters based on linux, unix, windows server 2003, windows NT servers configured with software such as C,C++,visual C++,visual studio .net,SDK version6,JDK1.8.0,Eclise,Tomcat,android,photoshop,NS2, Star ML,SQL,XML,WEKA,Autocad,CORAL DRAW,Tuca cad.
Careers
Industry representatives visit the campus to recruit students finishing their degrees. The campus placement centre provides additional support for securing employment with several construction and MNC companies around the state.