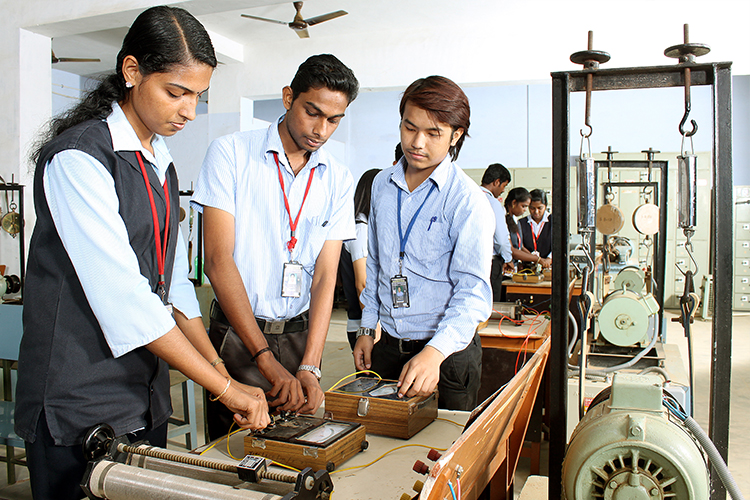 B.E Electrical &amp Electronics Engineering
Vision :
The department envisions that the students of the branch become engineers of professional character equipped with a strong theoretical foundation required for critical thinking. The students are also equipped with practical engineering skills to face the challenges in the field, the ability to work in a team, and all the qualities that help them to accomplish their goals.
Mission :
To create an academic of high quality through an enquiry based interactive teaching learning model.
Producing students who are society – focused, creative, adaptive and motivated.
Provide outstanding education & research training to students to enable them to have productive careers in industry and academia.
To provide "learn by practice" environment.
Job Opportunities :
Obtaining an engineering degree in Electrical & Electronics Engineering will open the door to many opportunities. In today's high-tech world, this engineering degree is a great foundation for careers in traditional engineering fields as well as for careers in management, sales, government, medicine, research, teaching and more. A recent survey conducted by the Association of Electrical Engineers says that by 2018 there will be a requirement of more than 1, 00,000 EEE graduates every year in India alone.
Placement Opportunities :
The department has placed more than fifty percent of students in various firms across the world, including MNCs like TCS , CTS, Infosys, Wipro, Mind & Technologies, HCL Technologies, Larsen & Toubro InfoTech, Reliance, Satyam Computer Services, etc.
Infrastructure :
The laboratory infrastructure of the department is excellent with state of art equipments and software related to the field of Engineering. The extensive facilities available in the laboratories can be utilized for research work, in addition to the lab courses as per the affiliating university requirement for UG.
The department has spacious classrooms, seminar hall, and a well-equipped laboratory. The department has a computer lab with 30 systems, all in a networked environment with un- interrupted power supply. These systems have the recent and most updated Software.
The role of a library is to enhance critical learning. Our department has a library with a collection of standard books for the faculty and students to refer and enhance their knowledge. The department Library collection also includes DVDs in various subjects as per the academic syllabus.
Department Activities
The EEE Department had organized several National and International Conferences / Symposium / Seminars / Workshop / Short Term Courses periodically.
The Department has close interaction with leading industries of our country.
The various courses are organized for development of employability skill-Matlab, Embedded Processor, etc.
Students are given exposure to current trends including micro grids and smart grids, embedded controller design, neural networks, genetic algorithm etc through seminars, and guest lectures by the field experts.
Seminars have been conducted regularly on Renewable Energy Conservation &Energy Management to create energy conservation awareness among the students.
The faculty takes keen interest to provide the necessary counseling, coaching and guidance to the students to shape their career aspiration through competitive exams like GATE, CAT and GRE.
Non-CGPA courses to improve the performance of the students in the extracurricular and co-curricular activities.
Technical Activities like technical essay writing, technical talk, technical quiz, multimedia presentation and paper presentation have been conducted regularly to improve their technical skills.
Motivational speeches and awareness on recent trends in Electrical and Electronics Engineering have been given to the students periodically.
General Aptitude and General Knowledge Tests have been conducted regularly to enhance their Intelligent Quotient Levels.
Regular Alumni interaction for curriculum development and placement.
Student's placement in public and private sector companies.
Effective faculty advisory system.
The Department regularly conducts extension activities like cultural and religious activities to improve the social harmony among the students.
Student's Academic Achievements
Our students of every batch have participated and won prizes in National and International Conferences / Symposium / Seminar / Workshops conducted by IEEE, ISTE, IET, IIE, etc.