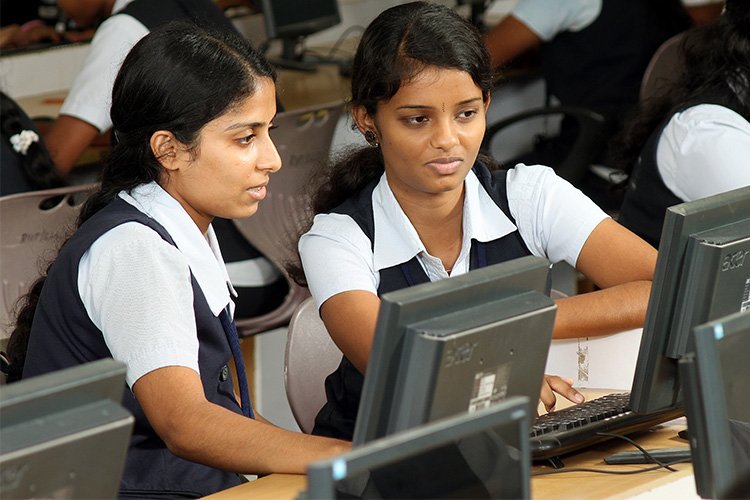 B.E Computer Science Engineering
Vision :
To be renowned itself as a reputed organization in engineering education and research aimed with a deep passion for wisdom, culture and values.
Mission :
To provide quality education in both theoretical and applied foundations of Computer Science and Engineering.
Create highly skilled computer engineers, capable of doing research and also develop solutions for the betterment of the nation.
Inculcate professional and ethical values among students.
Support society by participating in and encouraging technology transfer.
To provide quality education to meet the need of profession and society.
Provide a learning ambience to enhance innovations, problem solving skills, leadership qualities, team-spirit and ethical responsibilities.
Establish Industry Institute Interaction program to enhance the entrepreneurship skills.
Provide exposure of latest tools and technologies in the area of engineering and technology.
Promote research based projects/activities in the emerging areas of technology convergence.
Curriculum Importance :
Computer Science & Engineering blends software and hardware for having improvement in digital technology, computer networking, robotics, sensing technologies etc. Computer engineers use their extensive knowledge of hardware and software design and computer programming to make computing platforms and applications more efficient and effective. Seamlessly integrating the latest innovations, computer engineers develop new computer hardware, design and implement software applications, and enhance the capabilities of networks and communications systems.
Student Outcome
An ability to design, implement, and evaluate a computer-based system, process, component, or program to meet desired needs.
An ability to apply mathematical foundations, algorithmic principles, and computer science theory in the modeling and design of computer-based systems in a way that demonstrates comprehension of the tradeoffs involved in design choices.
An ability to apply design and development principles in the construction of software systems of varying complexity.
To produce graduates who are prepared for life-long learning and successful careers as software engineers.
An ability to communicate effectively, work collaboratively and exhibit high levels of professionalism and ethical responsibility.
An ability to use current techniques, skills, and tools necessary for computing practice.
An understanding of professional, ethical, legal, security and social issues and responsibilities
An ability to develop professional skills that prepare them for immediate employment.
Department Activities 2016 - 2017
September'10, 2016 - A National Level Technical Symposium, TRAVAIL-2K16 was organized by Computer Science and Engineering Department, Dr. A.J Deepa, HOD & Professor, Department of PG (CSE), Ponjesly College of Engineering, was the Chief Guest
August'10,2016 - A Technical speech was given by Mrs. Anon K Jenifer ,M.E,(Ph.D.,) ,HOD, Dept of CSE, RIT, on Scope of Computer Science and Engineering
August'16,2016 – Technical speech by Mrs. S.Afrin Banu , M.E., Assistant Professor, Dept of CSE, RIT on Virtual Reality
August'23,2016 - Technical speech given by Dr. S. JeyaShobana , M.E ,Ph.D., Assistant Professor, Dept of CSE,RIT on Recent Trends and Technologies
October'7,2016 - Technical speech given by Dr. Manju C Thayammal ,M.E, Ph.D., HOD, Associate Professor, Ponjesly College of Engineering on Sensor Networks
Computer Laboratories
The department has over 133 nos intel processor computer which are fully networked and have the latest software. The computer laboratories are fully air conditioned with adequate UPS backups, and has internet facilities through 12 mbps leased line with bsnl.
The department provides state of art computing facilities to the students through well equipped labs. The lab have clusters based on linux, unix, windows server 2003, windows NT servers configured with software such as C,C++,visual C++,visual studio .net,SDK version6,JDK1.8.0,Eclise,Tomcat,android,photoshop,NS2, Star ML,SQL,XML,WEKA,Autocad,CORAL DRAW,Tuca cad.
Student Achievements
| Name of the Participant | Organization | Event | Prize |
| --- | --- | --- | --- |
| K.Indira | Anna University Zonal Athletic Meet 2015-2016 | Half Marathon | II |
| T.Sivaranjini | Anna University Zonal Athletic Meet 2015-2016 | Basketball | III |
| R.A.Esther Keerthana | Anna University Zonal Athletic Meet 2015-2016 | Basketball | III |
| J.Prayerlin Fermi | Anna University Zonal Athletic Meet 2015-2016 | Basketball | III |
| N.Jegatheeswari | Anna University Zonal Athletic Meet 2015-2016 | Basketball | III |
| S.Sherlin Sopia.S | Anna University Zonal Athletic Meet 2015-2016 | Basketball | III |
| Bidila Thilak | Anna University Zonal Athletic Meet 2015-2016 | Basketball | III |
| A.S.Saniya Prise | Anna University Zonal Athletic Meet 2015-2016 | Basketball | III |
| T.Sivaranjini | Kumari Kalai Kazhagam 2015-2016 | Group Dance | II |
| T.Esther Roselin | Kumari Kalai Kazhagam 2015-2016 | Group Dance | II |
| C Dhanasharmi | Kumari Kalai Kazhagam 2015-2016 | Group Dance | II |
| A Subhasini | Kumari Kalai Kazhagam 2015-2016 | Group Dance | II |
| K.Indira | Kumari Kalai Kazhagam 2015-2016 | Group Dance | II |
| K.Indira | Anna University Zonal Athletic Meet 2015-2016 | 4X400m Relay | III |
| T.Sivaranjini | South Tamilnadu Inter Collegiate Athletic Meet 2016 | Discus Throw | III |
| K.Indira | South Tamilnadu Inter Collegiate Athletic Meet 2016 | 5000m Running | III |
| Bala Subinitha | South Tamilnadu Inter Collegiate Athletic Meet 2016 | Javelin Throw | I |
| Bala Subinitha | South Tamilnadu Inter Collegiate Athletic Meet 2016 | Shout Put | II |
| S.Banisha | South Tamilnadu Inter Collegiate Athletic Meet 2016 | 4X400m Relay | III |
| T.Esther Roselin | South Tamilnadu Inter Collegiate Athletic Meet 2016 | 4X400m Relay | II |
| V.S.Supriya | Anna University Zonal Athletic Meet 2015-2016 | Chess | III |
| H.Hajara | Anna University Zonal Athletic Meet 2015-2016 | Chess | III |
| M.Fathima Amrin | Anna University Zonal Athletic Meet 2015-2016 | Chess | III |
| M.Arshitha | Anna University Zonal Athletic Meet 2015-2016 | Chess | III |